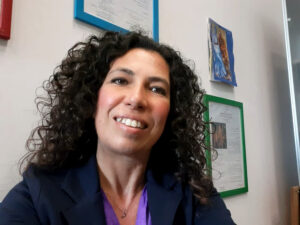 Milena Gammaitoni, sociologa, è professoressa associata di Sociologia Generale, presso l'Università di Roma Tre, Dipartimento di Scienze della Formazione.
I temi di studio riguardano la questione dell'identità, il ruolo sociale delle artiste e degli artisti, le migrazioni, la metodologia della ricerca sociale di tipo qualitativo e complementare.
Ha svolto il dottorato di ricerca in Teoria e Ricerca Sociale presso l'Università "La Sapienza" di Roma e un post-dottorato presso la "Ecole des Hautes Etudes en Sciences Sociales" di Parigi; si è perfezionata su "La Ricerca qualitativa nelle scienze sociali" presso l'Università "La Sapienza" e su "Pari opportunità e storia del pensiero femminile" presso l'Università di Roma Tre.
Da molti anni insegna Sociologia delle arti all'Università Roma Tre, alla "Università Jagellonica" di Cracovia, e presso l'"Université d'Évry" di Parigi.
Nel 2021 è stata eletta nel bureau dell'AISLF (Association Internationale des sociologues de langue française).
In particolare è autrice di diversi volumi monografici: La funzione sociale del musicista, EDUP, 2004, L'agire sociale del poeta, W. Szymborska nella vita dei lettori in Polonia e in Italia, Franco Angeli, 2005; Storie di vita di artiste europee, dal Medioevo alla contemporaneità, Cleup, 2013; e The History and Life Stories of European Women in Arts. From the Middle Ages to the Present, Springer, Zurigo, 2022.
Ha curato i volumi Per una sociologia delle arti. Storia e storie di vita, Cleup, 2012; Le Arti e la politica, le risposte della sociologia, Cleup, 2016; Musiciste e compositrici – Storia e storie, in collaborazione con Luca Aversano e Orietta Caianiello, SEdM, 2021; Roma in mutamento? Intercultura e inclusione per servizi pubblici innovativi, Cleup, 2021; e Le direttrici d'orchestra nel mondo. Una galleria di ritratti da Marin Alsop a Xian Zhang, Zecchini Editore, 2023.
È in corso di stampa il volume La sociologia: storia, concetti e ricerca empirica per UTET Edizioni.
---
Prossimi incontri / Impegni